Seven is mysterious..seven is intriguing..seven has many interpretations and many poetic meanings..Here is my entry for day 3 of the
write tribe festival
..a write up on the current affair of things..taking help of the old classic "Little red riding hood".
The post was picked as the spicy saturday post by blogadda.. :)

She walked past the little green shrub with dark red berries and plucked a few as the wind ruffled her long black hair. She walked with the song of the trees and laughed along with the mischievous breeze, on the liitle pathway; suddenly the clouds thundered in the spring and warned her,
"O..Little red riding hood
go back, go back,
7 wolves are there in the woods
go back go back
cover yourself up and dont talk
go back, go back
dont look around just slowly walk."
She listened to the changing weather but she had to go to get the fruits, so she walked and walked and met the first wolf, who stared at her and passed lewd comments and laughed and laughed at her discomfort, he followed her to make her uneasy and she ran ahead; she met the second wolf who asked her to marry him and when she refused, tried to throw the acid on her; frightened and confused she ran ahead but the acid burnt her arm and face; looking for some help when she met the third wolf who looked the most menacing and tried to rape her, she pleaded and fought but to no avail; the wolf simply said, "you shouldn't have come out of the house, you have no right to live!" she fought and ran hard, dropping the fruits on her way..
She sat at the big rock and cried and cried, when she met the fourth wolf, who laughed at her disheveled state and told her how he had killed his daughter because she married out of the wolf tribe, she simply stared at the absurdity and prayed for the deceased soul; collecting herself she walked ahead and met the fifth wolf who simply told her, she is lucky to be alive for he had killed her daughter when she was not even born, for a girl is just a burden and nothing else; filled with hopelessness and anger she held a tree for support and came the sixth wolf who was forcefully carrying a screaming, screeching girl, she tried to stop him when he simply told her that he had bought this girl and if she interfered she would also have to face similar;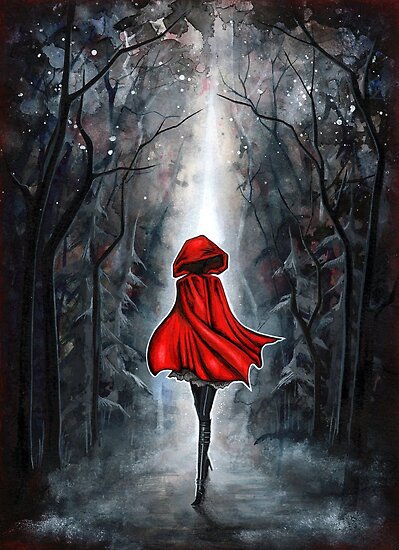 Image source: www.redbubble.com
Disheartened she sat by the stream, when she finally saw a nice man coming to help, he tended to her wounds and gave her comfort, she trusted him and married him when she saw the camouflage..out came the seventh wolf who hit her and asked for money..when she said she wants to go back to her grandma, who can't give anything, he burned her alive..since she couldn't get the dowry!!
The situation is improving..this was just to highlight the problems in the form of wolves of today!! But there are changes which act as a lumberjack to help the little red riding hood, come back alive..!!